Back To [ bloody ] Reality
A friend quipped:
"What a depressing way to start your blog..."
She suggested that I should throw in one of those cute 'smileys' here and there.
"Oh, okay."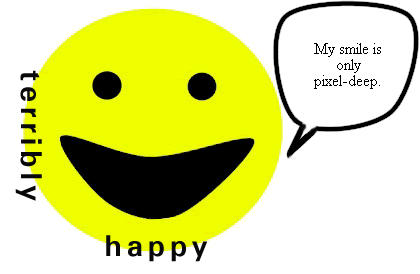 Terribly Happy Blogs
I am stupendously happy. Although, it's quite hard to keep an arched face without being terribly sarcastic, don't you think?
Guess I woke up in the wrong side of the bed when I wrote it. And perhaps, wrong side of the planet. I wished I had a longer holiday... And stayed a bit longer there in the Philippines.
Some people can probably relate to this: The minute you step foot on English soil, you behave like an Englishman. It's a bit like when you are in Rome-you-act-like-a-Roman kind of thing / analogy... Only this time you don't just act. You almost become one.
Strange.
An Englishman. Read: Übermensch miserable weiner. Maybe it's the weather. Or maybe it's Darwin. Adaptation or something. One of the cornerstones of the theory of evolution: Conforming oneself to a new habitat as in - this environment is full of miserable twits so I become a miserable twit. Example:
[ Situation # 1, this morning in the coffee room checking my emails ]
Cheeky sod: What are you doing?
Me: Uhm, I'm trying to check if I got mails.
Cheeky sod: Oh, yeah?
Me: Oh, yeah.
Cheeky sod: [ Breathing down my neck ] Making irritating twirp sounds...
Me: Can I have some privacy please? I'm reading my email.
Don't you think it's rude that you are having a look?
Cheeky sod: Ain't you supposed to check your bedspace? Your monitor's alarming.
Me: Oh, bugger off !!! I had somebody keeping an eye on it. I am having my break. [ Wondered whether we get paid when we do breaks ]
Hmmm... Gotta check this out soon with Matron.
-----------------------------------------------------------------------------------
boggle. drained. creative. mental. process. sucked out. from the sink. spawned paranoia. while playing. enzymes. detergent. washing machine. ecological. atrocity. contrived. by erudition. to create. biochemical [ germ? ] warfare. narcissus. imagine. intimations of monstrousness
Labels: Blogging